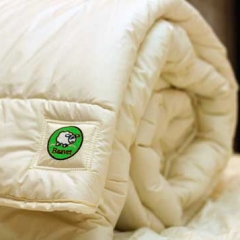 Baavet bedding combines over 100 years of manufacturing and farming experience to create a unique wool bedding range that is chemical free and safe for the whole family to enjoy.
Why Choose An Irish Baavet Duvet?
We don't use chemicals on the wool or bleach our wool
We don't bond our wool to polymers, nor use a polypropylene inter liner.
Our wool comes from Irish farmers
Our cotton is specially made just for us, it's the finest quality 250 thread count, which is then put through a calendaring heat process to make it completely fibre proof
We professionally card(comb) our wool and quilt our own products to the highest standards
We are so confident of the quality of our product that you can try it for a month and if it doesn't do what we say, or for any other reason whatsoever, we will replace it or refund your money.
Our Baavets are made just for you. Customer satisfaction is our top priority.
Display 15 Products per page